News
Same-Sex Union Survey Launched by Congress
The House of Representatives takes the issue to the people.
IMAGE UNSPLASH/Peter Hershey
The House of Representatives is holding an online poll that may affect the lawmakers' discussion on the legalization of same-sex unions as civil partnership in the country. This comes just weeks before the whole world celebrates Pride Month in June. The poll is posted on the official website of the 17th Congress where voters can choose whether they're in favor of the proposal or not.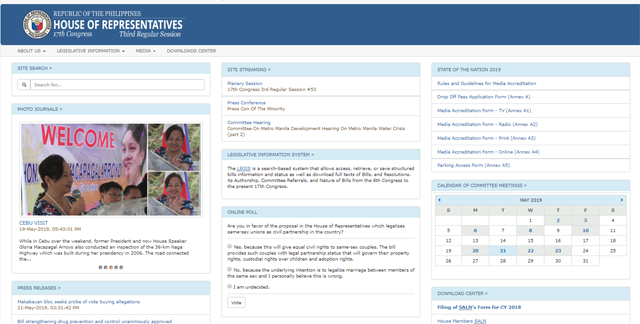 ADVERTISEMENT - CONTINUE READING BELOW
Atty. Jesus Nicardo Falcis III in May 2015 filed a 31-page petition asking the Supreme Court to nullify Articles 1 and 2 of The Family Code of the Philippines, which "defines and limits marriage as between man and woman," since the 1987 Philippine Constitution and the 1949 Civil Code of the Philippines "did not define and limit marriage as between man and woman," among other things. It was the first petition of its kind in Philippine court.
Three years later in June 2018, the Supreme Court tackled the issue in two rounds of oral arguments. Solicitor General Jose Calida, however, argued that "same-sex couples can live happily together but they cannot demand that the state recognize same-sex marriages because the Constitution doesn't allow such unions" while Associate Justice Francis Jardeleza said he was "more inclined" to dismiss the petition.
But Senior Associate Justice Antonio Carpio remarked that civil partnerships among same-sex couples is constitutional. He then directed the opposing parties to submit their respective memoranda within 30 days.
ADVERTISEMENT - CONTINUE READING BELOW
The term "civil partnerships" was also used by former House Speaker Pantaleon Alvarez when he filed a bill seeking the recognition of same-sex unions in October 2017.
This story originally appeared on Spot.ph.
* Minor edits have been made by the Esquiremag.ph editors.
Some reasons why ALLHC is a safe bet among investors during this time of market volatility.
These restaurants deserve your attention.
You can tour the reef like a scuba diver and zoom in on corals and marine life.
Marilyn Monroe's death 57 years ago still fuels speculation.
Have you tried paying online?
Separating fact from misinformation about one of the most important figures who shaped Philippine history.
You won't be able to sleep with the lights on.
It's been called a "dishonorable" use for a hero's name.
The star came correct to the Mexico City premiere of Once Upon a Time...In Hollywood.
Ironically, elected officials are not required to pass the Civil Service Exam.
The Securities and Exchanges Commission has just approved the initial public offerings of both companies.
What began as a simple exploration of a prison took on greater purpose as filming began.